Description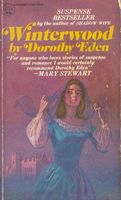 Pursued by memories of the scandalous trial that rocked London society and resulted in her temporary imprisonment, Lavinia Hurst has escaped, penniless, to Venice. There she becomes acquainted with the Meryons -- Daniel, the disturbingly handsome head of the family to whom she's immediately drawn, his vicious wife, Charlotte, their daughter, Flora, crippled by a tragic accident, and Lady Tameson, Charlotte's great-aunt, an ancient woman of enormous wealth who is obviously near death.

Because Flora, a deeply troubled child, takes to Lavinia, Daniel Meryon employs her as his daughter's companion and takes her back with them to Winterwood, the family's lonely, isolated estate in England. Day by ominous day, Lavinia's apprehension grows -- both about Charlotte's evil scheming and about the intentions of Jonathon Peate, Charlotte's sinister nephew who hints that he knows Lavinia's secret and may use it to force her to marry him. When the dying Lady Tameson alters her will, disinheriting Charlotte and making Flora her heiress, Lavinia is terrified. Now not only her future and her relationship with Daniel, but the life of the young girl she has come to love are in jeopardy.

Surrounded by evil, struggling to protect Flora from her ruthless mother, fearing exposure and the loss of Daniel's love, Lavinia is on the point of despair, when a series of letters -- in the deceased Lady Tameson's hand -- begin to arrive from Venice, terrorizing Charlotte and Jonathon Peate. Who is responsible for the letters? And how will Daniel react should Lavinia's secret be disclosed?
Full Synopsis
About the Book
Published:

1967

Formats:

Print / eBook / Audio

Pages:

256

Purchase: