Description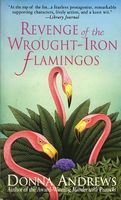 Ornamental blacksmith Meg Langslow, her boyfriend Michael, and their extended families have dressed up in costume for a reenactment of the siege of Yorktown, complete with cannons and a crafts fair. Self-employed Meg fervently hopes her booth selling bayonets, buckles, and pothooks will be a business bonanza.

But personal battles are soon raging. An entrepreneur working with her brother nearly comes to blows with several craftspeople, including Meg. Meg has hidden a dozen modern pink lawn flamingos under her counter, a deed that can

get her a fine--or worse, suspected of murder. When the businessman is killed with one of her birds, Meg and her friends head the list of suspects. Now determined to find the killer by hook or crook, Meg is ruffling feathers and risking something more precious than an iron flamingo ... her life.
Full Synopsis
About the Book
Published:

Oct-2001

(Hardcover)

Nov-2002

(Paperback)

Formats:

Print / eBook / Audio

Pages:

288

Purchase: