Description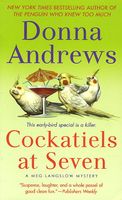 BABYSITTING IS FOR THE BIRDS

When her old friend Karen drops by with her two-year-old son, Meg Langslow reluctantly agrees to mind him for a few hours. The next morning, when Karen is still MIA, Meg retraces her friends footsteps and starts to suspect that her disappearance is linked to at least one serious crime. Has Karen been killed or kidnapped? Is she on the run? Whats the story with her ex-husband Jasper? The police don't seem to care…So now its up to Meg to crack the case -- no small task when you consider shes also dealing

with a house full of reptilian guests courtesy of Dad and Grandpa, thinking about starting a family of her own with new husband Michael, and chasing after a two-year-old who doesn't understand that the bad guys might be after him next.
Full Synopsis
About the Book
Published:

Jul-2008

(Hardcover)

Jun-2009

(Paperback)

Formats:

Print / eBook / Audio

Pages:

310

Purchase: