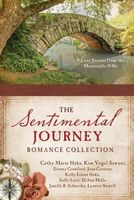 Newest Release
Bibliography:

11 Books - 2 Series

First Book:

November 1997

Latest Book:

December 2015

Rating:
Full Series List in Order
1 - Freedom's Promise (Feb-2000)
2 - Freedom's Hope (Jul-2000)
3 - Freedom's Belle (Feb-2001)
1 - A Home in the Valley (Jul-2002)
2 - Lady of the River (Mar-2003)
3 - An Echo of Hope (Aug-2003)
Book List in Order:
11

titles
Tea for Marie

in A Victorian Christmas Tea

Victorian America -- a time when life was uncomplicated, faith was sincere . . . and love was a gift to be cherished forever. A VICTORIAN CHRISTMAS TEA will take you there . .. to the mountains of New Mexico, where mistaken identities nearly dera...

---

Something New

in With This Ring (Tyndale)

Value priced! Lori Copeland, Dianna Crawford, Ginny Aiken, and Catherine Palmer Four Victorian-era wedding novellas comprise this romance anthology. Each ends with a wedding feature of a different culture....

---

Freedom's Promise

Series premiere special price! After completing her years of servitude to a dairy farmer in North Carolina, Annie McGregor hears there is a man in town, Ike Reardon, looking for settlers to accompany him across the mountains to Tennessee. Could this ...

---

Freedom's Hope

Jessica Whitman lives for one hope: reaching her mother's family, the distinguished Hargraves of Baltimore, far from the clutches of her drunken father. Noah Reardon, bitter over a broken betrothal, wants nothing to do with people. So why is he capt...

---

Freedom's Belle

Morning deejay Carrie Jamison spouts the quirky brand of comedy Kansas City loves to wake up to. She's skyrocketing in the ratings, and her quick wit has won her the admirations of everyone at KUTE radio--except Kyle Harris. A serious, no-frills news...

---

---

A Home in the Valley

Set in Tennessee Territory in the early 1800s, A Home in the Valley is the story of widower Baxter Clay and Sabina Erhardt, an impoverished young woman desperate to escape an arranged marriage to a dangerous man. Expecting only to find safety, she fi...

---

Lady of the River

Wilderness explorer Max Bremmer's dreams are shattered when he suffers a severe injury that forces him to settle in Reardon Valley. When he catches sight of the mysterious Belinda Gregg, he is driven to uncover the secrets of her family's secluded li...

---

An Echo of Hope

Readers will be delighted to return to the Reardon Valley in An Echo of Hope. When young widow Hope Reardon's childhood love, Michael, returns from war, old feelings are rekindled. But Hope and Michael must first overcome their past hurts so that the...

---

---

The Stuff of Love

in The Stuff of Love

In four interwoven novellas set in 1941, an American OSS officer enlists a mother and daughter in America and two of their relatives in Europe to carry out a clever plan. They sew dolls for the children of the war-torn continent...but add a life-savi...

---

A Stitch of Faith

in The Sentimental Journey Romance Collection

Journey back to the great decade of the 1940s through nine romances that ignite despite the challenges and dangers of a world war. Couples meet under unique circumstances-during the bombing of London, at military outposts, through covert operations t...

---
Frequently Asked Questions (FAQ)
DiAnna Crawford has published 11 books.
DiAnna Crawford does not have a new book coming out soon. The latest book, A Stitch of Faith, was published in December 2015.
The first book by DiAnna Crawford, Tea for Marie, was published in November 1997.
Yes. DiAnna Crawford has 2 series.