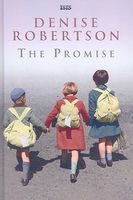 Newest Release
Bibliography:

23 Books - 1 Series

First Book:

July 1984

Latest Book:

February 2014

Rating:
Full Series List in Order
3 - Towards Jerusalem (Nov-1998)
Strength for the Morning (Nov-1998)
The Beloved People (Nov-1998)
Book List in Order:
23

titles
---

None to Make You Cry

Adoption has many faces â€" the mother who gives up her child, the woman who yearns for a baby and accepts it with joy, the child who must one day learn the secrets of its birth. Sometimes there is a happy ending for all three. Sometimes the first se...

---

Remember the Moment

The independent, glamorous lifestyle of Emma Gaunt is shattered when a child's illness stirs new yearnings in her and when a mysterious phone call from a lawyer gets her involved in a tragic case only she can solve. Original....

---

---

Anxious Heart

Single mother Julie Baxter meets an intriguing confirmed bachelor whom she thinks is out of her league, but Graham Iley begins to reevaluate his life choices and thinks about making room in his heart for a new family. Original....

---

A Relative Freedom

Sophie Baxter appears to have everything she could wish for. She is a young woman of the 90s. But when she becomes compelled to make decisions about her own life, she consults both her mother and grandmother and begins to question the legacy of freed...

---

Act of Oblivion

Claire Griffin is shattered when her husband, a prominent Labour MP, is found dead at the age of 37. And when the hideous truth comes out that he died in bed with another woman, Claire hits rock bottom - hounded by the press, her family and by well-i...

---

---

The Beloved People

The first volume in the Belgate trilogy, about a small Durham mining village coping with the legacy of World War I. Howard Brenton, heir to the colliery, is back from the trenches with a social conscience, but robbed of the confidence to implement it...

---

---

Strength for the Morning

It is 1939 and the threat of war looms ever closer as Hitler unleashes terror across Europe. In the Durham mining village of Belgate, the inhabitants brace themselves for the conflict ahead. As the war deepens, the people of Belgate are swept up in a...

---

Towards Jerusalem

Peace may have come to Britain, but for Frank Maguire, miner and union leader, his wife Anne and their family, poverty and rationing are still making life hard. To add to Anne's sorrow, her daughter has married a GI, and is taking Anne's grandchild t...

---

---

---

The Bad Sister

It's hard to be the younger sister, especially when the elder sister is beautiful, successful and much too nice to hate. But the final straw comes when Sarah marries the handsome laird Jamie, the only man Lexy feels she will ever love. Can the bonds ...

---

---

---

---

---

The Tides of Peace

/ Contemporary Romance

Buffeted by the winds of war. Now they face the tempestuous tides of peace... The story of three women linked by fate and war and the men who loved or hated them. It is 1945 and men and women prepare to return to the lives they left behind in 1939. B...

---

---

An Unsuspecting Heart

/ Romance

As London licks its wounds in the immediate aftermath of war, four orphaned sisters must learn not only how to survive but how to succeed. Life will take them from a London tenement to the four corners of the UK and beyond but wherever they are, in P...

---

Blue Remembered Hills

Since her husband's death, Fran Drummond has succeeded in re-ordering her life. Her teacher-training course is almost completed, and she has friends in the coalmining village of Bellgate where she lives - a village now threatened by the closure of th...

---

The Land of Lost Content

Fran's happy marriage to David has always been the centre of her life in the closeknit mining village of Belgate in County Durham. But, suddenly, at thirty-two her world falls apart when she finds herself a widow, without a man to rely on. Denise Rob...

---

A Year of Winter

As newly widowed Fran struggles to rebuild her life in a mining village where she is still a stranger, the fury of the 1984-5 miners' strike erupts around her. Passions run high as families are torn apart by their beliefs. Will Treesa, bereaved by ...

---
Frequently Asked Questions (FAQ)
Denise Robertson has published 23 books.
Denise Robertson does not have a new book coming out soon. The latest book, An Unsuspecting Heart, was published in February 2014.
The first book by Denise Robertson, Nurse in Doubt, was published in July 1984.
Yes. Denise Robertson has 1 series.