Description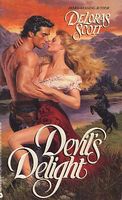 HE'S NO GENTLEMAN

He's a rugged, gun-toting federal agent working undercover and Clint Morgan's style is to do his job, enjoy his women, and move on. When he gallops into the untamed Wyoming territory, it's to snare some cattle thieves. But now he's hell-bent on taking time to teach a beautiful, free-spirited rancher's daughter the joys of womanhood. . .

AND SHE'S NO LADY

Kate Whitfield is a green-eyed spitfire who can ride and shoot better than most men and she aims to catch the rustlers herself. Being

roped into romance with a devilishly handsome rogue who may be up to no good is not part of her plan. Yet recklessly she samples the searing kisses of the mystery maverick. . . torching a wildfire of ecstasy that enflames a dangerous passion. . . sealing their fates in the magnificent uncharted wilderness of all-consuming love.
Full Synopsis