Description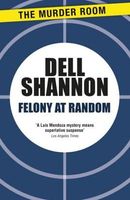 The bizarre, haphazard pattern of big-city crime and violence has never been more vividly portrayed than in this, Dell Shannon's 30th novel. As avid fans of this series have long recognized, no one handles his job with more finesse than Lt. Luis Mendoza, seasoned veteran of the Los Angeles Police Department's Robbery & Homicide Division. With keen intuition and clever, persistent detective work, he and his men routinely set about solving their most challenging cases.

In Felony at Random: a diplomat's young daughter is kidnapped from

a school outing; an old woman is brutally murdered in her quiet neighborhood, and a shocking double suicide quickly ensues; a cop is shot without a motive; an anonymous tip points to an impending homicide; a stash of drugs is uncovered. As the pace of senseless violence and crime picks up, Lt Mendoza and his men coolly sharpen their crime-solving prowess on the razor-edge of danger.
Full Synopsis
About the Book
Published:

Formats:

Print / eBook

Pages:

355

Purchase: