Description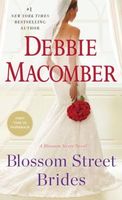 #1 New York Times bestselling author Debbie Macomber has won the hearts of millions of readers with her moving and inspiring stories. Now wedding bells are ringing in the tight-knit community that gathers around A Good Yarn, a store in a pretty Seattle neighborhood. Knitters come to the store to buy yarn and patterns but somehow they leave richer in friendship and love.

Lauren Elliott has waited years for her long-term boyfriend, Todd, to propose, yet he seems more focused on his career than their relationship. When Lauren learns that her younger sister is pregnant before she herself even has an engagement ring, she feels overjoyed yet disheartened. Knowing she can't put her future on hold, Lauren prepares to make a bold choice -- one that leads her to a man she never dreamed she'd meet.

Newly married to her second husband, Max, Bethanne Scranton is blissfully in love. But with Max's job in California and Bethanne's in Seattle, their long-distance marriage is becoming difficult to maintain. To complicate matters, Bethanne's cunning ex will do anything to win her back.

Lydia Goetz, too, is wonderfully happy with her husband, Brad, though lately she worries about the future of A Good Yarn. As she considers how to bring in business, she discovers that someone has beaten her to the punch. Baskets of yarn are mysteriously popping up all over town, with instructions to knit a scarf for charity and bring it into Lydia's store. Never before has her shop received so much attention, but who hatched this brilliant plan?

As three women's lives intersect in unexpected ways, Lydia, Lauren, and Bethanne realize that love heals every heart, and the best surprises still lay ahead.
Full Synopsis
About the Book
Published:

Mar-2014

(Hardcover)

Mar-2015

(Paperback)

Formats:

Print / eBook / Audio

Pages:

384

Purchase:
What Readers Are Saying
What do you think? Write your own comment on this book!
Write a Comment

Blossom Street Brides is the tenth book in the Blossom Street series by popular American author, Debbie Macomber. Lydia Goetz, proprietor of A Good Yarn in Blossom Street, is concerned. Her adopted daughter, Casey is having terrifying nightmares with increasing frequency, and her mother, Mary Lou seems to be rapidly deteriorating, both physically and mentally. She is also intrigued: someone is leaving Knit Me baskets around the town with needles, yarn and instructions for a simple scarf for charity, to be delivered to A Good Yarn on completion. Her good friend Bethanne Scranton (whom readers will remember fondly from the very first Blossom Street book, and the eighth in the series) is happily married to her biker, Max, although their long-distance marriage is challenging, but continues to have problems with daughter Annie, who is still hopeful Bethanne will reunite with ex-husband, Grant. The news of her younger sister's pregnancy prompts Lauren Elliott to confront her long-time boyfriend, TV broadcaster, Todd Hampton about their relationship. She is now certain he will never marry her, and she has no intention of remaining single and childless. Enter Rooster Wayne, good friend of Max Scranton, and she unexpectedly sees in this biker a man who ticks all the boxes on her husband list. But Todd is not prepared to let go quite so easily. This instalment has an elopement, a hastily arranged marriage, an aborted honeymoon, attempted blackmail and three pregnancies. Macomber touches on everyday topics like pride and jealousy, trust and honesty, as well as dementia, long-distance relationships and the effects of childhood trauma. Macomber is the mistress of the heart-warming read.
Haven't Read As of 10/1/2016