Description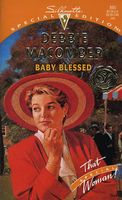 A cherished wife, a husband deeply loved. And a baby who made Molly Larabee's golden circle complete. Until the tiniest link gave way...crushing her marriage beneath an avalanche of grief.

Then suddenly, unexpectedly, Jordan claimed one last night of her passion. Shadowed by memories, they created hope for tomorrow. But would this new life bring only new sadness...or prove a baby blessed?
What Readers Are Saying
What do you think? Write your own comment on this book!
Write a Comment
Baby Blessed is a book by popular American author, Debbie Macomber, in the That Special Woman! series. When their baby son dies, Molly and Jordan Larabee deal with their grief in different ways, ways that make their marriage seem irreparable. Molly volunteers in a volatile East African Republic, and, some four years later, her father enlists her husband to extract her when things turn dangerous. Jordan wants a divorce so he can marry someone else, but the attraction is still hot between them, and now there's another baby on the way. This is a sweet romance that examines how people cope with the dreadful loss of a baby. Classic Macomber.