Description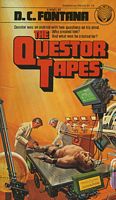 WHO WAS HE?
Questor was an artificial man, built in the labs and designed to be virtually indistinguishable from a human being. But something had gone wrong with his programming, and he was brought to life without the ability to feel or understand emotion.

WHERE DID HE COME FORM?
He knew the engineers had designed and built him from the notes left by a Dr. Vaslovik. But the good doctor had disappeared, and nobody knew where he was.

AND WHAT WAS HE SUPPOSED TO DO?
Questor knew he would have to meet

his maker, if he were ever to find out what his mission was to be. And he would have to find Vaslovik fast...before the head of Project Questor found his AWOL android and destroyed him!
Full Synopsis
About the Book
Published:

Oct-1974

Formats:

Print

Pages:

156

Purchase: