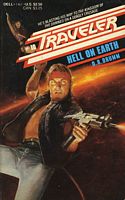 Newest Release
Bibliography:

13 Books - 1 Series

First Book:

June 1984

Latest Book:

November 1987

Rating:
Full Series List in Order
5 - Road War (Feb-1985)
6 - Border War (May-1985)
7 - The Road Ghost (Sep-1985)
9 - The Stalking Time (Jun-1986)
13 - Ghost Dancers (Nov-1987)
Book List in Order:
13

titles
---

---

---

---

Road War

In the midst of the postnuclear wasteland, Traveler braves hideous mutants, savage road rats, and the fanatical Road Wasps to recover a fortune in buried bullion and forestall the President's monstrous war machine...

---

Border War

When Traveler sets out to visit Jan Knife Wind, the young Indian woman who had saved his life, he discovers that her village has been invaded by a vicious band of soldiers from El Hiagura, a despotic Central American nation...

---

---

---

---

---

Hell on Earth

ON A ONE-WAY ROAD TO HELL HE VOWED TO GIVE THE DEVIL HIS DUE! Nearly thirty years after Doomsday, Traveler figured he'd seen it all. Until a long-lost comrade, with his dying breath, swore that Hell had finally come to earth. What better name for ...

---

---

---

---
Frequently Asked Questions (FAQ)
D.B. Drumm has published 13 books.
D.B. Drumm does not have a new book coming out soon. The latest book, Ghost Dancers, was published in November 1987.
The first book by D.B. Drumm, First You Fight, was published in June 1984.
Yes. D.B. Drumm has 1 series.