Description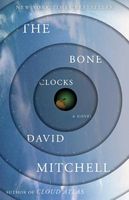 Following a scalding row with her mother, fifteen-year-old Holly Sykes slams the door on her old life. But Holly is no typical teenage runaway: A sensitive child once contacted by voices she knew only as "the radio people," Holly is a lightning rod for psychic phenomena. Now, as she wanders deeper into the English countryside, visions and coincidences reorder her reality until they assume the aura of a nightmare brought to life.

For Holly has caught the attention of a cabal of dangerous mystics -- and their enemies. But her lost weekend is merely the prelude to a shocking disappearance that leaves her family irrevocably scarred. This unsolved mystery will echo through every decade of Holly's life, affecting all the people Holly loves -- even the ones who are not yet born.

A Cambridge scholarship boy grooming himself for wealth and influence, a conflicted father who feels alive only while reporting on the war in Iraq, a middle-aged writer mourning his exile from the bestseller list -- all have a part to play in this surreal, invisible war on the margins of our world. From the medieval Swiss Alps to the nineteenth-century Australian bush, from a hotel in Shanghai to a Manhattan townhouse in the near future, their stories come together in moments of everyday grace and extraordinary wonder.
Full Synopsis
About the Book
Published:

Sep-2014

(Hardcover)

Jun-2015

(Paperback)

Formats:

Print / eBook / Audio

Pages:

704

Purchase:
What Readers Are Saying
What do you think? Write your own comment on this book!
Write a Comment
3/12 stars for me. It would have made 4 1/2 but the book was at least 100 pages too long, and the last 100 pages really didn't need to be there. I have to admit that I skimmed over them. The rest of the book was captivating. The characters are wonderfully drawn and that was a wonderful book that is part supernatural and part science fiction. This type of book is way off my wheelhouse, and I didn't expect to enjoy it, but I had heard good things, so I read it anyway. David Mitchell writes a thriller of a book (for the first 500 pages anyway). It was a book that had surprises on every page and every page read made me want to hurry and read the next one. Holly Sykes is a wonderful main character. We see her at the beginning of the book when she is a precocious 15-year-old, and follow her through the decades until she is an old lady in her seventies. Because of the breadth of this book and large amount of time it covers, I found that it actually skipped a lot of back story that I felt was really required. I felt like I had been left hanging many times while I was reading. The whole story actually hinges around the disappearance of Holly's little brother. He disappears never to be seen again when he was about seven years old. It affected the whole family terribly, and Holly the most as she felt responsible for his disappearance. But that disappearance also grounds Holly and it does not allow her to be swayed by plenty of negative influences in the course of her long life. She finds that she is a conduit for psychic phenomena and so many unexplained things happen to her that she knows that a lot of what's going on within her is not within her control. I love the other characters as well. Mitchell does a great job of creating a fantastic mystical world that carries his readers away. Now back to those last 100 pages. They were so dark and upsetting it was like reading a futuristic "Silent Spring", a book which I never enjoyed at all because of the total bleakness of the scenarios it created. Expect the unexpected though, and be prepared to be entertained by this door stopper of a book if you decide to take the plunge and dive in.
The Bone Clocks is the sixth novel by British author, David Mitchell. After an argument with her mother and an upsetting encounter with her unfaithful boyfriend, fifteen-year-old Holly Sykes intends to get as far from Gravesend as possible. But Holly is no ordinary teen, and a chance meeting with a strange old woman on a jetty leads to a promise with repercussions many years later.

The story is split into six parts with different narrators: a rebellious teen; a self-centred, self-serving young man; a British journalist hooked on the excitement of the Middle East; an arrogant writer with a guilty secret; an Horologist in his fortieth life; and an elderly grandmother. The narratives of those whose lives intersect with Holly's relate the major events of her life in a roundabout way while, at the same time, telling a thrilling tale of opposing forces and the inevitable battle that ensues.

The tale is told over some six decades and jumps from small town England to a Swiss ski resort, Iraq, Hay, Columbia, Western Australia, Shanghai, Iceland, New York, Canada and Ireland. Mitchell touches on a myriad of subjects: teen angst, infatuation and true love, career/family balance, literary critics and book fairs, the curse of privilege, socially conscious pop idols, the world's reliance on technology and the pervasiveness of the internet.

His characters comment on: ageing (It's not just that you get old and your kids leave; it's that the world zooms away and leaves you hankering for whatever decade you felt most comfy in"); religion ("..if you could reason with religious people, there wouldn't be any religious people" and "Prayer may be a placebo for the disease of helplessness, but placebos can make you feel better"); and technological advances ("Some magic is normality you're not yet used to").

He gives them words of wisdom ("People are icebergs, with just a bit you can see and loads you can't" and "Mum said I'd learn betrayals came in various shapes and sizes, but to betray someone's dream is the unforgiveable one") and some lovely descriptive prose ("The English Channel's biro-blue; the sky's the blue of snooker-chalk.")

His characters are appealing and readers may find themselves wondering for some time just whose intentions are pure and whose are not; some develop in depth and integrity as the story progresses. Holly is easy to admire, resourceful and engaging; her use of the rolling pin is definitely a laugh-out-loud moment.

This is a wonderfully crafted novel, with mysterious happenings building the intrigue until things begin to fall into place with the fifth narrative. Fans of Mitchell's earlier novels will delight in (and quite probably be excited by) the connections (characters, locations, themes) with this one. Once again, Mitchell gives the reader a brilliant novel and it will be interesting to see what he does next.