Description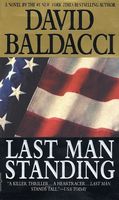 THE FIRST MAN IN ...

Web London was trained to penetrate hostile ground and come out alive. Then ten seconds in a dark alley cost him everything: his friends, his fellow agents, his reputation. Among his super-elite FBI Hostage Rescue Team, Web was the sole survivor of a high-tech, devastating ambush.

THE FIRST MAN DOWN ...

Now Web is trying to put his life back together and understand what really happened. To get answers, he'll need the help of psychiatrist Claire Daniels and the one other human being who lived through the attack--a ten-year-old boy. But when his search leads him back to that bloodstained alley, Web suddenly realizes he is about to face his assassin again. And this time, one of them will become the ...

LAST MAN STANDING
Full Synopsis
About the Book
Published:

Nov-2001

(Hardcover)

Sep-2002

(Paperback)

Formats:

Print / eBook / Audio

Pages:

656

Age Level:

13-22

Purchase:
What Readers Are Saying
What do you think? Write your own comment on this book!
Write a Comment

Web London and his FBI Hostage Rescue Team are lured into a trap, caught in a crossfire and slaughtered. He's the only survivor.

One witness is a ten year old boy named Kevin Westbrook. He's the brother of a drug dealer called Big F. After the shooting, Kevin disappears.

Knowing that he's in need of help in dealing with the emotional effects of his friend's deaths, Web goes to psychiatrist, Claire Daniels. As he tells her of his past, we learn of the guilt and anguish he feels about being alive and not able to do more to save his friends.

FBI official, Percy Bates meets with undercover operative, Randall Cove. Cove had given the information about the building that was being raided. He suggests taht one group is controlling the Oxycontin flow from rural areas into the cities in the East Coast.

I enjoyed this book and feel that Web London is one of the author's better protagonists. He's easy to sympathise with, compassionate and dedicated. The interaction between Web and Calire Daniels was well done and had me wishing for more.

The author also provided a number of well timed plot twists that caught me unaware.

Well done.