Description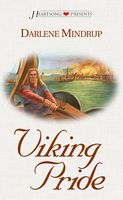 Viking raids and political turmoil mark Arietta's early years, but after King Alfred defeats the Norsemen, relative peace settles over her small coastal village. Promised in marriage to Edwynn, the village smith, Arietta is content to spend her days providing for herself and others.

But the return of several long-lost village women, including her older sister, Gwyn, throws Arietta's orderly life into chaos. The women arrive with their Viking husbands and families, and one Norseman in particular challenges every assumption Arietta has made about life.

Wulfric, the unmarried brother of Gwyn's husband, cannot resist Arietta's independent spirit and innocence. But he questions why she would follow a God he perceives as weak. Nor is he about to submit to her God just to win her favor.

Will Arietta persist in marrying Edwynn, even though he loves another? And will love be enough to tame Wulfric's Viking pride?
Full Synopsis