Description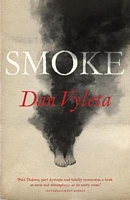 Welcome to a Victorian England unlike any other you have experienced before.  Here, wicked thoughts (both harmless and hate-filled) appear in the air as telltale wisps of Smoke.
 
Young Thomas Argyle, a son of aristocracy, has been sent to an elite boarding school.  Here he will be purged of Wickedness, for the wealthy do not Smoke.  When he resists a sadistic headboy's temptations to Smoke, a much larger struggle beyond the school walls is revealed.  Shortly thereafter, on a trip to London, Thomas and his best friend witness events that make them begin to question everything they have been taught about Smoke. 
 
And thus the adventure begins... You will travel by coach to a grand estate where secrets lurk in attic rooms and hidden laboratories; where young love blossoms; and where a tumultuous relationship between a mother and her children is the crucible in which powerful passions are kindled, and dangerous deeds must be snuffed out in a desperate race against time.
Full Synopsis
About the Book
Published:

May-2016

(Hardcover)

Jun-2017

(Paperback)

Formats:

Print / eBook / Audio

Pages:

448

Purchase: