Description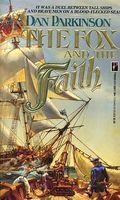 REBEL WITH A CAUSE

As a junior officer in Admiral Lord Howe's expeditionary fleet sailing against the rebellious American colonies, Patrick Dalton distinguished himself both as a seafarer and a leader--until he returned to fleet headquarters in New York harbor to find himself a marked man. Accused of treason against the king in wartime, he had no chance to defend himself and was banished to die aboard a rotting prison hulk.

Dalton 's only chance for escape was aboard the captured American schooner Faith in command of

a ragtag crew of British convicts and Colonial adventurers. With drumming sails spread full, Dalton steered a course for the Delaware coast to match wits and guns against the British frigate Courtesan--the devil's own warship--commanded by the captain who had sworn to see Patrick Dalton die. It was the Faith's seven cannon against the 44-gun man- of-war on a swelling sea of iron-gray water that would soon foam red with blood!
Full Synopsis
About the Book
Published:

Apr-1987

Formats:

Print

Pages:

352

Purchase: