Description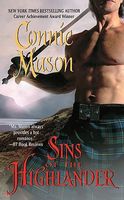 Even with her gift of the Sight, never had Elspeth Stewart imagined her wedding would be interrupted by a dark-haired stranger charging in on a black stallion, scooping her into his arms, and carrying her off across the wild Scottish highlands. With two clans against them burning for battle, they must find a way to join together -- body, breath, and soul. Or both will be made to pay for the Sins of the Highlander.
About the Book
Published:

Nov-2010

Formats:

Print / eBook

Pages:

329

Purchase:
What Readers Are Saying
What do you think? Write your own comment on this book!
Write a Comment

FAVORITE QUOTE:
"But ye make it sound as if love isna a matter of the heart," Elspeth said.
"Oh, it is that too, ye ken. But ye may feel all ye like and never do a bit about it," Hepzibah said. "If a body willna put feet to the feeling, what good is it?" ...
"Tell me, Hepzibah, what does a body do if the feelings go away?" Elspeth asked.
"That's when a soul decides to love anyway, with mind and breath and body," Hepzibah said. "Feelings come and go. And come again. But when your soul and your will unite to act, that's when ye know love goes clear to the bone. A body canna forget how to love once it's done that."