Description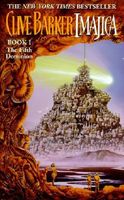 Bestselling author of The Great and Secret ShowClive Barker once again enters the realm of pure imagination. The Imajica: five Dominions of which four are bound together and one, the Earth, is cut off from her sisters.
Only a few know of the Imajica, and of those few many are frightened. A time of great risk and promise is coming when three memorable characters--John Furie Zacharias, known as Gentle, a master forger whose own life is a tissue of deception; Judith Odell, a beautiful woman desired by three men but belonging to none

of them; and Pie `oh' Pah, an assassin who deals in love as well as death--will have the power to either reconcile Earth with her fellow Dominions or keep her adrift forever.
Full Synopsis
About the Book
Published:

Oct-1991

(Hardcover)

Nov-1992

(Paperback)

Formats:

Print / eBook / Audio

Pages:

896

Purchase: