Description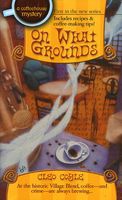 Clare Cosi used to manage the historic Pillage Blend coffeehouse...until she opted for quieter pastures and a more suburban life. But after ten scars and a little friendly cajoling from the owner (a fresh pot of Jamaican Blue .1 fountain was all it took), she's back to the grind, serving coffee and solving crime -- one cup at a time...

With a sprawling rent-free apartment directly above The Village Blend, her cat lava by her side, and plenty of coffeehouse redecorating ideas, Clare is thrilled to return to work. Until she discovers

the assistant manager unconscious in the back of the store, coffee grounds strewn everywhere. Police arrive on the scene to investigate. But when they find no sign of forced entry or foul play, they deem it an accident. Case closed. But Clare is not convinced. And after the police leave, there are a few things she just can't get out of her mind...Why was the trash bin in the wrong place? If this wasn't an accident, is Clare in danger? And...are all detectives this handsome?
Full Synopsis
About the Book
Published:

Sep-2003

Formats:

Print / eBook / Audio

Pages:

288

Age Level:

18 & up

Purchase: