Description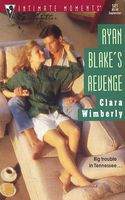 IN A KILLER'S MIND...

A serial rapist was stalking the city of Chattanooga, a conscienceless killer with a thing for green-eyed women. And this time, this psycho would be caught, if it was the last thing detective Ryan Blake ever did.

But he was distracted, plagued by nightmares of a laughing maniac...and haunted by dreams of the emerald-eyed beauty who'd gotten herself involved with he wrong case, wrong cop....

As a woman, Megan Sinclair was as scared as Ryan insisted she should be. But as a television

journalist, she wasn't about to run and hide. Besides, she also wanted to investigate why the hard-bitten, handsome cop hoped he'd run just as far from the food guy....
Full Synopsis