Description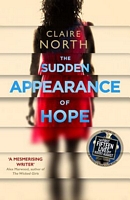 My name is Hope Arden, and you won't know who I am. But we've met before-a thousand times.

It started when I was sixteen years old.

A father forgetting to drive me to school. A mother setting the table for three, not four. A friend who looks at me and sees a stranger.

No matter what I do, the words I say, the crimes I commit, you will never remember who I am.

That makes my life difficult. It also makes me dangerous.

The Sudden Appearance of Hope is the tale of a girl no one

remembers, yet her story will stay with you forever.
Full Synopsis
About the Book
Published:

May-2016

(Hardcover)

Jan-2017

(Paperback)

Formats:

Print / eBook / Audio

Pages:

432

Purchase:
What Readers Are Saying
What do you think? Write your own comment on this book!
Write a Comment

"Thought can travel through time, you see, memory reinvents itself, making the past something that has always been, now, in this second, now, for ever. You can't ever really trust your own memory, your own mind. Reality, time, the past, it's as fickle as a dream, when you look back on it"

The Sudden Appearance of Hope is the third book by British author, Claire North. Hope Arden is a thief, a very successful one. Her success is due, for a large part, to skills she has acquired; but the fact that she is not quite invisible, but so very forgettable, is integral to that success.

Hope is in Dubai to steal the Chrysalis Diamond, and intends to do it from around the neck of the current owner, Princess Shamma bint Bandar, House of Saudi, at an exclusive promotional event. Her success, however, attracts attention for an unexpected reason. Hope is drawn into something that has the potential to make her memorable, but something that is also extremely dangerous. And the suicide of a recent acquaintance makes her all the more determined.

When Hope was sixteen, people began, inexplicably, to forget that she existed. From then on, her very existence began to change: she stole to survive. Hope found that being so forgettable has advantages and drawbacks. No one remembers you: you can get away with insults, offense, hurt, theft, even murder; one-night stands are easy; But, no one remembers you: not your landlady, your hairdresser, your local newsagent, your parents, your teachers, your lover; you can never have a true friendship or a long-term romance, let alone a marriage.

North's plot is imaginative, original and, quite possibly, prescient. The premise of Hope's affliction is cleverly handled. North's characters are believable, and Hope's often shameless acts of theft are understandable, given her situation. The world North depicts is frighteningly real and only a short step away from what already exists: an emphasis on physical beauty; apps that monitor location, purchases and web searches, that recommend products and services and offer discounts and loyalty points.

The Sudden Appearance of Hope is a moving and thought-provoking read that explores social pressures, the need for acceptance, loneliness, medical research and marketing, and whether the end ever justifies the means. North manages to include the poetry of Byron and Wordsworth, a Mobius strip, the darknet, opticians and the Macarena in her latest novel. Another brilliant read that will have readers wondering what Claire North will do next.