Description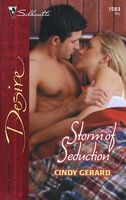 SKIN TO SKIN...

Tonya Griffin had been a lovestruck assistant when she had thrown herself at her boss. Twelve years later, Web Tyler was making the now-famous photographer a lucrative offer. Tonya had dreamed of this moment for years, but her revenge had soured: Web Tyler had forgotten their night together!

Web had come to Tonya's remote cabin hideaway to convince her to sign his contract, but the close-quarters' contact made keeping his mind on business impossible. Her scent drove him wild, her touch made him shiver

and he was desperate to test the springs on her creaky iron bed. He'd never met so tempting a woman...so why was there regret in her eyes?
Full Synopsis
About the Book
Published:

May-2004

Formats:

Print / eBook

Pages:

192

Purchase: