Description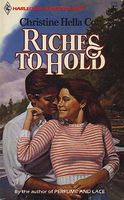 HER BACK WAS TO THE WALL

And the Glory Circle, her zany late aunt's family, was closing in.... The relatives coveted what had been dropped in Sharli Cook's lap--the ancestral cottage complete with hidden wealth.

As for Rochan Richet, freewheeling businessman--Sharli thought he wanted only her. He took her breath away-truly-until she discovered he was loyal to the clan. Another treasure hunter to fend off.

Sharli was a chef, so she knew what too many cooks could do! She wanted the clan off her back ...

but Rochan in her arms.
Full Synopsis