Description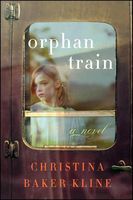 Orphan Train is a gripping story of friendship and second chances from Christina Baker Kline, author of Bird in Hand and The Way Life Should Be.

Penobscot Indian Molly Ayer is close to "aging out" out of the foster care system. A community service position helping an elderly woman clean out her home is the only thing keeping Molly out of juvie and worse...

As she helps Vivian sort through her possessions and memories, Molly learns that she and Vivian aren't as different as they seem to be. A young Irish immigrant orphaned in New York City, Vivian was put on a train to the Midwest with hundreds of other children whose destinies would be determined by luck and chance.

Molly discovers that she has the power to help Vivian find answers to mysteries that have haunted her for her entire life -- answers that will ultimately free them both.

Rich in detail and epic in scope, Orphan Train by Christina Baker Kline is a powerful novel of upheaval and resilience, of unexpected friendship, and of the secrets we carry that keep us from finding out who we are.
Full Synopsis
About the Book
Published:

Apr-2013

Formats:

Print / eBook / Audio

Pages:

288

Purchase:
What Readers Are Saying
What do you think? Write your own comment on this book!
Write a Comment
I have been wanting to read this book for quite awhile and was thrilled when I received it as one of my SantaThing books this Christmas. The book started out strong. I loved the double story. First Niamh who came to the United States from Ireland with her family when she was seven. And then Niamh, who is now Vivian at the age of 91 living in a huge house in Maine. Molly is a foster child who is 17 in 2011. Molly has been shipped all over the place in her short life and lived in many foster homes. She meets Vivian when Vivian brings her to her house to help her clean out her attic. We learn how Vivian's life and Molly's life are similar in so many ways in spite of the age difference. We learn about the thousands of homeless children and children without families who rode the Orphan Trains in the late 1920's and early 1930's. These poor children were collected all over New York and then sent on the trains that took them to Minnesota where they were offered to families there. The story about the Orphan Train children and Vivian in particular were heart-wrenching. Life was indeed hard for so many of these children as the families that chose them did not have to disclose what they wanted them for to the Children's Aid people who were responsible for finding homes for them. Many were subjected to privation and endangerment. Many didn't survive. Vivian's story was one of sadness and despair and she was exposed to so much that a girl of nine or ten should not have to experience. Molly has her own sad story of growing up as well. Unfortunately, as I got about halfway through the book I found it hurried and rushed. That is why I gave the book three stars. I was left wanting much more at the end - more character development, more loose ends wrapped up and more background on the Orphan Trains.