Description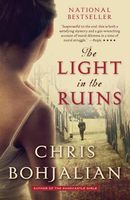 From the New York Times bestselling author of Midwives and The Sandcastle Girls comes a spellbinding novel of love, despair, and revenge -- set in war-ravaged Tuscany.

1943: Tucked away in the idyllic hills south of Florence, the Rosatis, an Italian family of noble lineage, believe that the walls of their ancient villa will keep them safe from the war raging across Europe. Eighteen-year-old Cristina spends her days swimming in the pool, playing with her young niece and nephew, and wandering aimlessly amid the estate's gardens and olive groves. But when two soldiers, a German and an Italian, arrive at the villa asking to see an ancient Etruscan burial site, the Rosatis' bucolic tranquility is shattered. A young German lieutenant begins to court Cristina, the Nazis descend upon the estate demanding hospitality, and what was once their sanctuary becomes their prison.

1955: Serafina Bettini, an investigator with the Florence police department, has her own demons. A beautiful woman, Serafina carefully hides her scars along with her haunting memories of the war. But when she is assigned to a gruesome new case -- a serial killer targeting the Rosatis, murdering the remnants of the family one-by-one in cold blood -- Serafina finds herself digging into a past that involves both the victims and her own tragic history.

Set against an exquisitely rendered Italian countryside, The Light in the Ruins unveils a breathtaking story of moral paradox, human frailty, and the mysterious ways of the heart.
Full Synopsis
About the Book
Published:

Jul-2013

(Hardcover)

Apr-2014

(Paperback)

Formats:

Print / eBook / Audio

Pages:

434

Purchase:
What Readers Are Saying
What do you think? Write your own comment on this book!
Write a Comment
This book is certainly a different look at WWII. It is set in Florence Italy, and it is a family saga that covers the later years of WWII, and it skips ahead throughout the book to 1955. I have never read a book that gave the Italian perspective of what happened during WWII. Italy was an Axis power and uneasily allied with Germany. The partnership was never an easy one as Germany did not trust Mussolini, and the Italian people as a whole were not comfortable with the alliance. Italy had it's own resistance movement who worked against the Nazis. A lot of blood was shed, and a lot of damage was done tosome of Italy's wonderful estates and beautiful scenery. And a lot of Italy's ancient treasures were pillaged by the Nazis as in so many other countries. This book slips back and forth from from 1943-44 to 1955 as it follows the lives of the Roasiti family. And the connection between these two different eras (war and post-war) is a killer who is hunting the members of the Donati family in 1955. I found that Mr. Bohjalian's character development is quite extraordinary. HIs historical research and references are also very good and it was interesting to learn a litttle about this previously unknown to me part of World War II. But for me the book fell off in the mystery side. I think that Mr. Bohajalian portrayed a depraved and psychotic killer quite well, but there was really no mystery to me as to who it was almost from the beginning. And I found that the slow reveal of what happened to set off this particular killer wasn't as suspenseful as it could have been. Still it is a well-written historical novel in its own right so that is why I have given the book 4 stars.