Description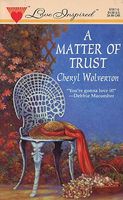 SHE REFUSED TO BE FIRED...

Elizabeth Jefferson wasn't like the other. The young sassy therapist refused to be fired and merrily defied Rand Stevens's demands.

Since the accident that had robbed him of his sight, the handsome millionaire had allowed no one near. But Elizabeth gave him the courage to face the world again -- a hand to hold and a reason to hope...

Though Elizabeth longed to help Rand, she'd never meant to fall in love. For as soon as his therapy was complete she had to move on. Or risk

that the secrets of her own past would jeopardize both of their lives...
Full Synopsis
What Readers Are Saying
What do you think? Write your own comment on this book!
Write a Comment
While reading this book, up to the half-way mark, I kept thinking the book was definitely getting less of a five because it just seemed slow or something. It wasn't as exciting...BUT the second half was so wonderful! I loved the mystery of the stalker (even though I knew who it was the whole time), and I loved the mystery of the headaches and their outcome...

But what I loved the most about this book is that Rand had reached his decision on his future of love and marriage BEFORE "THE" event occurred. I have a habit of reading ahead to see what will be coming and knew of "THE" event, and I was so afraid he would make his decision on his future AFTER "THE" event, but I was pleased he didn't!!! And his being a knight in shining armor blind - now that was (SIGH) very romantic! He was such a tough guy, blind; and that was special.

I must admit I was shocked when he kissed Elizabeth in the pool that first time. I thought that was a bit tacky, but the second half of the book was SO very, very excellent!!!

Now that Rex has sworn off marriage after seeing that of his brother's, I cannot wait to read the next exciting book in this series!