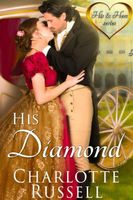 Newest Release
Bibliography:

11 Books - 3 Series

First Book:

August 2014

Latest Book:

May 2022

Rating:
Full Series List in Order
1 - One Wicked Weekend (Dec-2014)
2 - Stranded with the Earl (Apr-2018)
3 - Under the Kissing Bough (Oct-2019)
1 - His Duchess (Mar-2021)
2 - Her Rake (Oct-2021)
3 - His Diamond (May-2022)
1 - Hot Corner (Apr-2021)
Book List in Order:
11

titles
A Spy's Honor

/ Historical

Embroiled in a scheme to catch an assassin, Lady Claire Talbot will soon learn all that His Majesty's spy Lord John Reyburn has to hide -- and all that his heart is dying to reveal. LOVE & LIES At seventeen, Lady Claire Talbot thought she'd fo...

---

Splendor in the Moss

/ Historical Romance

By the spring of 1853 Englishman James Caldwell has traveled thousands of miles in a quest to find a place to call home. Newly settled Seattle isn't that place, and he's ready to move on again when widowed Mattie Jensen marches into his life as sombe...

---

One Wicked Weekend

/ Historical

Hugh Drake attended the scandalous house party to help a friend, but what he found was a woman he could never relinquish. FROM THIS NIGHT FORWARD As a newcomer to Lord Bruton's scandalous house party, Hugh Drake was to choose first from the proffe...

---

---

Stranded with the Earl

BETRAYED Young and in love, Lady Vivienne Denton has to hide her attachment to the Earl of Trent from her abusive, controlling father. When Trent's ardor is discovered, Vivienne knows she must seek him out so they can flee to Gretna Green before th...

---

Under the Kissing Bough

/ Historical Romance

Four years ago, Jack Telford and Isabella Bruton made the mutual mistake of letting her contemptible brother come between them. Now that Jack has discovered her whereabouts, he'll cross snowy hill and icy dale to be reunited with his heart's desire. ...

---

His Duchess

/ Historical Romance

First in the new His & Hers series Victoria Foster needs a husband. Orphaned, nearly penniless, saddled with an indifferent guardian plus a cousin intent on sabotaging her matrimonial hopes, she cannot afford to be a wallflower. Unfortunately fo...

---

Hot Corner

/ Contemporary Romance

AJ Donohue, the Phoenix Sidewinders star third baseman, has two problems. His minor but immediate need: a pet sitter. His major, more comprehensive need: fix his not-so-stellar performance at the plate. A community college dropout with no other skill...

---

Her Rake

/ Historical Romance

Lord Peyton Danforth—he of the charming smile, cheerful disposition, and hidden resentment of his brother, the Duke of Taviston—appears to live the exhilarating life of a rake. However, his lifelong pursuit of owning his own estate ...

---

---

His Diamond

/ Historical Romance

LOVE & LIES At eighteen, Lady Amelia Colvin managed to find, and then lose, her one true love in a matter of days. Lose being a euphemism for he escaped with undue haste to the Continent at the first opportunity. After years of suppr...

---

Dark Music

PRELUDE TO A REQUIEM From the moment Joanne McNally arrived at Sharon Sangstrom's isolated mountain retreat, she sensed something evil, something threatening. Yet, despite her misgivings, she stayed on. Sharon's glamorous world of concert musi...

---
Frequently Asked Questions (FAQ)
Charlotte Russell has published 11 books.
Charlotte Russell does not have a new book coming out soon. The latest book, His Diamond, was published in May 2022.
The first book by Charlotte Russell, A Spy's Honor, was published in August 2014.
Yes. Charlotte Russell has 3 series.