Description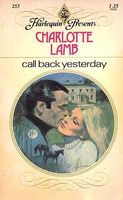 Oriel Mellstock--wealthy, beautiful and a widow--could have any man she wanted. But she couldn't forget Devil Haggard, whose apparent rejection had once sent her across the world into the arms of a millionaire.

Coming back to the Yorkshire dale where Devil still lived, Oriel found she desired him in a way that both terrified and elated her.

Could she turn back the clock? "I begged once, woman," Devil said, "but from now on, any begging comes from you." Did she have the courage to forget about her pride?