Description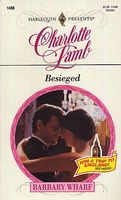 Home to the Sentinel
Home to heartache, passion and love

Gina Tyrell knew media tycoon Nick Caspian was trouble the moment she met him. Despite his awe-inspiring looks, he was a ruthless and dangerous man, a man she knew what he wanted. What he wanted was Barbary Wharf -- home to London's most prestigious daily newspaper. He wanted the Sentinel. And he wanted Gina, a woman whose loyalty to Sir George Tyrell and his paper meant she stood in Nick's way.

Piet van Leyden, Nick's trusted associate, thought he could change Gina's mind. The paper was dying; it needed Nick's intervention. But Piet hadn't counted on meeting Hazel Forbes, Sir George's assistant, or on falling in love.

Barbary Wharf is home to more than a newspaper. It is home to a group of men and women whose careers -- and passions -- are intertwined...
Full Synopsis