Description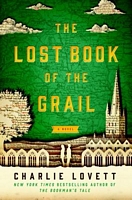 From the New York Times bestselling author of The Bookman's Tale comes a new novel about an obsessive bibliophile's quest through time to discover a missing manuscript, the unknown history of an English Cathedral, and the secret of the Holy Grail

Arthur Prescott is happiest when surrounded by the ancient books and manuscripts of the Barchester Cathedral library. Increasingly, he feels like a fish out of water among the concrete buildings of the University of Barchester, where he works as an English professor. His one respite is his time spent nestled in the library, nurturing his secret obsession with the Holy Grail and researching his perennially unfinished guidebook to the medieval cathedral.

But when a beautiful young American named Bethany Davis arrives in Barchester charged with the task of digitizing the library's manuscripts, Arthur's tranquility is broken. Appalled by the threat modern technology poses to the library he loves, he sets out to thwart Bethany, only to find in her a kindred spirit with a similar love for knowledge and books -- and a fellow Grail fanatic.

Bethany soon joins Arthur in a quest to find the lost Book of Ewolda, the ancient manuscript telling the story of the cathedral's founder. And when the future of the cathedral itself is threatened, Arthur and Bethany's search takes on grave importance, leading the pair to discover secrets about the cathedral, about the Grail, and about themselves.
Full Synopsis
About the Book
Published:

Formats:

Print / eBook / Audio

Pages:

288

Purchase:
What Readers Are Saying
What do you think? Write your own comment on this book!
Write a Comment

"The gifts of God are rarely what we expect"

The Lost Book of the Grail is the fifth novel by American teacher, playwright and author, Charlie Lovett. Arthur Prescott often thinks he was born in the wrong century. The forty-year-old university lecturer barely tolerates students and their modern take on classics; he hates the endless meetings and committees, and would much rather spend his time in the Barchester Cathedral Library handling ancient manuscripts written on vellum. His real passion, fostered by his grandfather from age nine, is all things pertaining to the Holy Grail. His extensive collection of books on the subject is not something he shares, even with his fellow bibliophiles and closest friends, Oscar and David.


Arthur's not exactly a luddite but he can't conceive of a library whose main focus is not real, printed-on-paper books, like the 1634 William Stansby edition of Malory's Morte d'Arthur, or better still, hand-written manuscripts like the Barchester Breviary. Understandably, when young (and attractive) Bethany Davis turns up from America to digitize the manuscripts in his beloved library, he's not impressed. But her enthusiasm for the Grail gives him pause, and her astute observations soon have them joining forces to track down a missing book, a book that may well help them to locate the Grail (which they both firmly believe does exist).

Before long, and against his better judgement (he had solemnly promised his grandfather he would keep the secret), he has enlisted the help of Oscar and David. They make some startling discoveries and, just when he thinks the manuscripts, through his little team's clever detective work, have given up all their secrets, he uncovers another, perhaps the most important of all – and is faced with a monumental choice.

Lovett tells two tales in tandem: the modern-day tracking down of the Book of Ewolda by Arthur, Bethany and their friends; and the fascinating series of events, starting in 560 AD, that results in that document's current form and location. As well as giving the reader an intriguing tale that features ancient manuscripts, secret codes, a sacred spring, a treasure hidden in plain sight and a martyred saint, Lovett considers topics both contemporary and timeless: the relevance and future of physical libraries; the advantages and drawbacks of electronic documents; love, devotion and friendship; recollection and truth; setting priorities for life; and faith and belief.

Although this is a work of fiction, there's plenty of fact included, and Lovett's expertise in, respect for and love of old books is apparent on every page. The plot is easily believable, with twists and turns and unexpected revelations. Lovett's characters are appealing, their dialogue witty and sharp. Each chapter is prefaced with an entry from Arthur's Visitor's Guide to Barchester Cathedral, and each present-day date is also described with its liturgical feast day. Not only bibliophiles will be charmed by this thoroughly enjoyable tale.