Description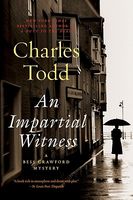 World War I nurse Bess Crawford, introduced in A Duty to the Dead, returns in an exciting new mystery in which a murder draws her inexorably into the sights of a cunning killer

It is the early summer of 1917. Bess Crawford has returned to England from the trenches of France with a convoy of severely wounded men. One of her patients is a young pilot who has been burned beyond recognition, and who clings to life and the photo of his wife that is pinned to his tunic.

While passing through a London train station, Bess notices a woman bidding an emotional farewell to an officer, her grief heart-wrenching. And then Bess realizes that she seems familiar. In fact, she's the woman in the pilot's photo, but the man she is seeing off is not her husband.

Back on duty in France, Bess discovers a newspaper with a drawing of the woman's face on the front page. Accompanying the drawing is a plea from Scotland Yard seeking information from anyone who has seen her. For it appears that the woman was murdered on the very day Bess encountered her at the station.

Granted leave to speak with Scotland Yard, Bess becomes entangled in the case. Though an arrest is made, she must delve into the depths of her very soul to decide if the police will hang an innocent man or a vicious killer. Exposing the truth is dangerous -- and will put her own life on the line.
Full Synopsis
About the Book
Published:

Sep-2010

(Hardcover)

Aug-2011

(Paperback)

Formats:

Print / eBook / Audio

Pages:

347

Purchase:
What Readers Are Saying
What do you think? Write your own comment on this book!
Write a Comment

Bess Crawford is a nurse in WWI. As the action begins, she is escorting a group of injured men back from the battlefields in France to England. One of the men is a badly burned flier who has a photo of his wife pinned to his clothing as if she is his reason for living.

Back in England, Bess delivers the injured to the medical facility and is given leave. At a train station, she witnesses a sorrorful departure of a soldier for the front. It seems to Bess that the couple are romantically involved. When the woman turns, Bess is surprised that she recognizes her. IT is Marjorie Evanson, the injured pilot's wife and here she is with another while her husband is suffering from his wounds.

Bess returns to France and notices a newspaper with a drawing of a woman. The police are asking if anyone has seen her. Bess regogmozes Marjorie and learns that she was murdered on the very day Bess saw her at the train station. Additionally, Le. Evanson committed suicide when he learned of his wife's death.

Bess returns to England to meet with Scotland Yard and tell them what she knows and then she visits Marjorie's family and Lt. Evanson's sister.

There are more twists and deaths in the story as Bess tries to find the answers. This is set amidst the action in the war as Bess is at the front to care for the newly wounded and observe the insanity of trench warfare with the high cost of lives for a few hundred yards gained or lost.