Description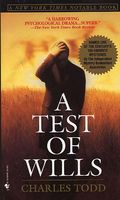 It's 1919, and the War to End All Wars has been won. But for Scotland Yard Inspector Ian Rutledge, recently returned from the battlefields of France, there is no peace. Suffering from shell shock, tormented by the mocking, ever-present voice of the young Scot he had executed for refusing to fight, Rutledge plunges into his work to save his sanity. But his first assignment is a case certain to spell disaster, personally and professionally.

In Warwickshire, a popular colonel has been murdered, and the main suspect is a decorated war

hero and close friend of the Prince of Wales. The case is a political minefield, and no matter what the outcome, Rutledge may not escape with his career intact. But, win or lose, the cost could be even higher: the one witness who could break the case is himself a shell shock victim, teetering on the edge of reality. And in this war-ravaged man, Rutledge sees his own possible future, should he lose grip on his mind....
Full Synopsis
About the Book
Published:

Aug-1996

(Hardcover)

Jul-1998

(Paperback)

Formats:

Print / eBook / Audio

Pages:

305

Purchase:
What Readers Are Saying
What do you think? Write your own comment on this book!
Write a Comment

This is the first book in the Inspector Ian Rutledge mystery series. It is set in England just after the First World War. Ian Rutledge was a police inspector before the war began, but served in France in the British Army for the entire war. He does manage to make it through the war, but he comes back a completely changed man. Rutledge is suffering from a severe case of shell shock (or PTSD as it is now known). After the war and after a long stint in a clinic, he tries to go back to his previous career as a policeman. He is sent from Scotland Yard to a small village to try to determine who shot a particularly popular ex-soldier who happens to be a village squire. Rutledge struggles to find his old investigative skills while at the same time battling the voice in his head. This voice is that of one of the privates in his unit who died in France as a result of one of Rutledge's battle decisions. The mystery is quite complicated and it's made doubly difficult for Rutledge because he's trying so hard to function while battling his own inner demons. I thought the book held some promise, but was a bit disappointed in the resolution to the case. It was a bit far-fetched and was one that was not even hinted at during the course of the book. It didn't seem to fit with the rest of the book and came off as contrived and as an attempt by the author to put one over on the readers. But I loved the time frame since I've always been fascinated with stories originating during and after The Great War. The characters didn't seem as realistic or believable as I like to see in a tightly written and fast-paced mystery novel. But there is evidence that this character and his struggle to regain his old life while fighting horrific memories might warrant further reading of other books in the series, so I'm not writing this series off yet.