Description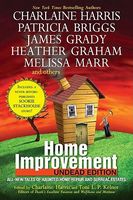 There's nothing like home renovation for finding skeletons in the closet or otherwordly portals in the attic. Now, for any homeowner who's ever wondered, "What's that creaking sound?" or fans of "how to" television who'd like a little unreality mixed in with their reality shows, editors Charlaine Harris and Toni L. P. Kelner return with an all-new collection of the paranormal perils of Do-It-Yourself.

Sookie Stackhouse resides in these pages, in a never-before-published story by #1 New York Times bestselling author Charlaine Harris. And New York Times bestselling authors Patricia Briggs, James Grady, Heather Graham, Melissa Marr, and nine other outstanding writers have constructed more frightening and funny fixer-upper tales guaranteed to shake foundations and rattle readers' pipes.

"If I Had a Hammer" by Charlaine Harris - A Sookie connected short. Even the easiest remodeling projects take on a life of their own as Sookie, Sam, Tara and JB are soon to discover
Full Synopsis
About the Book
Published:

Formats:

Print / eBook / Audio

Pages:

340

Age Level:

18 & up

Purchase:
What Readers Are Saying
What do you think? Write your own comment on this book!
Write a Comment

If I Had A Hammer is a short story in the Sookie Stackhouse series by popular American author, Charlaine Harris. Now that Sookie's best friend Tara and hubby J.B. du Rhone have twins (Robert Thornton and Sara Sookie), they need to do a little work on their house, the old Summerlin place, to make things more comfortable. Sam and Sookie have volunteered to help out. But their work uncovers a hidden article that unleashes an unhappy presence in the house. The twins' nanny, Quiana Wong (whom readers may recognise from The Blue Hereafter) has a certain ability that may allow her to help. A small but enjoyable dose of Sookie.