Description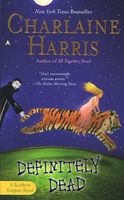 Since Louisiana cocktail waitress Sookie Stackhouse has so few living relatives, she hates to lose one-- even her cousin Hadley, undead consort of the vampire Queen of New Orleans. Hadley's left everything she has to Sookie, but claiming that inheritance has a high risk factor. Some people don't want her looking too deeply into Hadley's past, or Hadley's possessions. And they're prepared to do anything in their power to stop her. Whoever it is, they're definitely dangerous--and Sookie's life is definitely on the line...
About the Book
Published:

May-2006

(Hardcover)

Mar-2007

(Paperback)

Formats:

Print / eBook / Audio

Pages:

342

Age Level:

18 & up

Purchase:
What Readers Are Saying
What do you think? Write your own comment on this book!
Write a Comment

Sookie meets Amelia and becomes witness to a vampire King's murder. Nearly gets killed by a newly turned vampire/werewolf. She is dating a weretiger.
Definitely Dead is the sixth book in the Sookie Stackhouse series by popular American author, Charlaine Harris. As Sookie waits for word she can claim the legacy from her now definitely dead cousin Hadley, she encounters a surfeit of happy couples, including some of her exes, and there are several weddings being planned. Her own interest is piqued by a rather handsome were-tiger, Quinn, who confirms the attraction is mutual. But together, they seem to draw the wrong sort of attention. When Sookie heads to the Big Easy to sort through her cousin's things, she finds something quite unexpected in Hadley's closet.

In this instalment, Sookie's telepathy is put to use to save a life; Sookie has occasion to call a paranormal doctor, aid the Queen of Louisiana, escape from pursuit through a swamp, attend a Royal Vampire Ball, and confess to murder. She is told she has special blood, learns quite a bit about weres, shifters, fairies, vampires, witches and demons, watches the paranormal equivalent of a security video playback and has her heart broken. Bill makes a confession that has Sookie unable to envisage ever not hating him. Plenty of humour, action and an exciting climax will have fans looking forward to the next instalment, All Together Dead.
4.5 stars