Description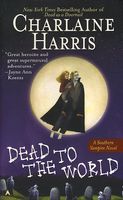 It's not every day that you come across a naked man on the side of the road. That's why cocktail waitress Sookie Stackhouse doesn't just drive on by. Turns out the poor thing hasn't a clue who he is, but Sookie does. It's Eric the vampire--but now he's a kinder, gentler Eric. And a scared Eric, because whoever took his memory now wants his life. Sookie's investigation into who and why leads straight into a dangerous battle among witches, vampires, and werewolves. But a greater danger could be to Sookie's heart--because this version of Eric is very

difficult to resist...
Full Synopsis
About the Book
Published:

May-2004

(Hardcover)

May-2005

(Paperback)

Formats:

Print / eBook / Audio

Pages:

320

Age Level:

18 & up

Purchase:
What Readers Are Saying
What do you think? Write your own comment on this book!
Write a Comment

Eric loses his memory and takes refuge with Sookie. Loved it - finally rid of Bill, sexy Eric moves in.
Dead To The World is the fourth book in the Sookie Stackhouse series by popular American author, Charlaine Harris. After the painful events in Jackson, Mississippi, a few weeks earlier, telepathic cocktail waitress, Sookie Stackhouse has vowed off all involvement with vampires. Her ex-boyfriend, vampire Bill, has gone to Peru when, driving home just after New Year, Sookie finds his boss, Eric, (vampire) Sheriff of Area 5, wandering, half naked, on the road near her home, with a convincing case of amnesia. What else can she do but take him home? Then, to complicate matters further, her brother, Jason goes missing.

This instalment sees Sookie encountering vampires, shifters and Weres (as usual), but also Witches, Wiccans and a Fairy. She manages to get on the right side of a Were packmaster, get a marriage proposal from a shifter, save a Werewolf's life, joins the residents of Bon Temps in a search through the woods, get shot at, witness a battle between a bunch of supernaturals, and kill two people. Sookie discovers that she may not be popular with regular guys because of her gift, but the supernaturals find her attractive in spite of, or sometimes because of, it. Lots of fun!