Description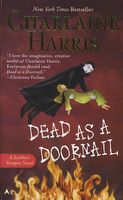 Small-town cocktail waitress Sookie Stackhouse had more than her share of experience with the supernatural--but now it's really hitting close to home. When Sookie sees her brother Jason's eyes start to change, she knows he's about to turn into a werepanther for the first time--a transformation he embraces more readily than most shape-shifters she knows. But her concern becomes cold fear when a sniper sets his deadly sights on the local changeling population, and Jason's new panther brethren suspect he may be the shooter. Now, Sookie has until the

next full moon to find out who's behind the attacks--unless the killer decides to find her first...
Full Synopsis
About the Book
Published:

May-2005

(Hardcover)

Apr-2006

(Paperback)

Formats:

Print / eBook / Audio

Pages:

310

Age Level:

18 & up

Purchase:
What Readers Are Saying
What do you think? Write your own comment on this book!
Write a Comment

Jason becomes a werepanther, the leader of Hotshot has Sookie in his sights. Eric and Bill vie for Sookie's attention.
Dead as a Doornail is the fifth book in the Sookie Stackhouse series by popular American author, Charlaine Harris. As a newly-minted shifter, Sookie's brother Jason is causing her concern: first she worries about how he is coping with his involuntary were-panther state; then, when it seems that someone is out there shooting shifters (already three shot in a few days), she worries for his safety, both from the shooter, and from those shifters who suspect Jason himself.

Life is never dull in Bon Temps: Sookie has had to beg help from Eric (in the form of a bartender/bouncer) when her boss Sam is incapacitated; Private Investigators are nosing around, inquiring about the whereabouts of a shifter whose body Sookie is certain won't be found; Sookie attends the funeral of the Shreveport Packmaster and finds herself an integral part of the ritual that decides his replacement; someone decides to set fire to Sookie's house with her in it; and she finds that returning books to the library can be more dangerous than she ever imagined.

In this instalment, Sookie finds herself being kissed by, or otherwise intimate, with no less than six men, while there are three people trying to kill her. All the usual characters make appearances, a few new ones appear, with Harris even bringing in a couple from her Lily Bard series (Jack Leeds and Lily Bard Leeds) and the reader learns a bit more about the Sookieverse. Several climaxes and plenty of laughs in this instalment.

4.5 stars