Description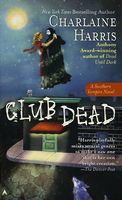 There's only one vampire Sookie Stackhouse is involved with (at least voluntarily) and that's Bill. But recently he's been a little distant--in another state, distant. His sinister and sexy boss Eric has an idea where to find him. Next thing Sookie knows, she is off to Jackson, Mississippi to mingle with the under-underworld at Club Dead. It's a dangerous little haunt where the elitist vampire society can go to chill out and suck down some type 0. But when Sookie finally finds Bill--caught in an act of serious betrayal--she's not sure whether to

save him ... or sharpen some stakes.
Full Synopsis
About the Book
Published:

May-2003

Formats:

Print / eBook / Audio

Pages:

258

Age Level:

18 & up

Purchase:
What Readers Are Saying
What do you think? Write your own comment on this book!
Write a Comment

Bill is kidnapped by Lorena, and Sookie goes to find him with the help of Alcide. Debbie Pelt is introduced. Bill nearly kills her in the boot of the car.
Club Dead is the third book in the Sookie Stackhouse series by popular American author, Charlaine Harris. Lately, her boyfriend Bill seems to be completely engrossed in the computer project he has taken on for the (vampire) Queen of Louisiana, leaving Sookie bored and frustrated. And then, suddenly, he is heading for Seattle and leaving her instructions in case he does not return. Weeks later, no Bill and suddenly, Eric, the boss of Area 5's vampires, assigns her a vampire bodyguard. And he has some news that has Sookie re-examining her relationship with Bill.

Soon enough, Sookie is on her way to Jackson, Mississippi in the company of a rather dishy werewolf named Alcide who is her entrée into Club Dead. Hopefully her telepath skills will help her locate her absent (possibly kidnapped? hopefully not permanently dead!) boyfriend. And while Sookie enjoys being pampered in a beauty salon on two occasions, dressing up in a jaw-dropping dress and getting to dance with a gorgeous and appreciative male, this is more than offset, over the next few days, as she is also insulted by a jealous ex, mauled, drained, staked, locked in a car trunk, battered and beaten.

This instalment also sees her meeting the (vampire) King of Mississippi, saving a vampire's "life", foiling an apparent holdup attempt, helping to dispose of a dead body and killing someone without remorse. The consideration of certain thoughtful males accentuates the distracted attitude of her official boyfriend, to Sookie's dismay. The ending leaves Sookie's relationship with Bill very much up in the air, although there are plenty of males willing to take his place. Very enjoyable. 4.5 stars