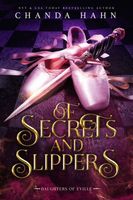 Newest Release
Bibliography:

22 Books - 5 Series

First Book:

February 2012

Latest Book:

June 2022

Rating:
Full Series List in Order
1 - Of Beast and Beauty (Jun-2019)
2 - Of Glass and Glamour (Dec-2019)
3 - Of Sea and Song (Jun-2020)
4 - Of Thorn and Thread (Dec-2020)
5 - Of Mist and Murder (Jun-2021)
6 - Of Gold and Greed (Dec-2021)
7 - Of Secrets and Slippers (Jun-2022)
1 - The Iron Butterfly (Feb-2012)
2 - The Steele Wolf (Jan-2013)
3 - The Silver Siren (May-2014)
5 - Forever (Jun-2015)
1 - Lost Girl (Dec-2016)
2 - Lost Boy (Sep-2017)
3 - Lost Shadow (Dec-2018)
1 - Underland (Apr-2016)
2 - Underlord (Sep-2018)
1 - UnEnchanted (Apr-2012)
1.5 - Jared's Quest (Feb-2015)
2 - Fairest (Jul-2012)
3 - Fable (Aug-2013)
4 - Reign (Nov-2014)
5 - Forever (Jun-2015)
Book List in Order:
22

titles
The Iron Butterfly

Thalia knows three things;Her first name.That she barely escaped the clutches of the Septori with the help of a mysterious stranger.And that her run in with the Septori's iron butterfly machine did something to her. It changed her into something ne...

---

UnEnchanted

Mina Grime is unlucky, unpopular and uncoordinated; that is until she saves her crush's life on a field trip, changing her High School status from loser to hero overnight. But with her new found fame brings misfortune in the form of an old family cur...

---

Fairest

Mirror, Mirror, on the wall,Who is the Fairest of them all?In the sequel to UnEnchanted, Mina Grime discovers that all is not fair when it comes to the Fae and their tales, especially when they don't all play by the rules. Barely surviving the Stor...

---

The Steele Wolf

After finally settling into her new life at the Citadel, Thalia is reunited with her father, Bearen, the leader of the reclusive Valdyrstahl Clan. Forced to leave the school and return home to the snowy mountains, Thalia is surprised to find she is e...

---

Fable

The third book in the Unfortunate Fairy Tale SeriesAll that glitters is not gold.When something precious is stolen from sixteen-year-old Mina Grime, she will do anything in her power to get it back, even if it means traveling to the dangerous Fae pla...

---

The Silver Siren

Every journey has an end.Unable to find the answers she sought in Skyfell, Thalia, Joss, and Kael travel to Haven with a prisoner in tow. An attack on the road waylays their plans, and Thalia finds herself traveling alone with Kael to the hidden sanc...

---

Reign

Going to the Fae plane against Jared's orders has cost Mina dearly. Her decision continues to haunt her as a new danger surfaces. The Grimms are fading.

To save her family's future, Mina Grime will have to travel to the past with the he...

---

Jared's Quest

/ General Fiction

This is an 11K word Short Story. It takes place in the timeline between UnEnchanted & Fairest. This is the first time this short story is released as a standalone and not bundled in other sets.Mina Grime is a Grimm, bent on sending Jared, and his Fa...

---

Forever

Estimated 351 pages
With the Godmother Guild destroyed by Teague's army, Mina finds herself without the guidance of her Fae Godmother. Alone and confused, she must lean on her friends for support. The dark prince threatens their very existence wit...

---

---

Underland

Long ago, before humans forgot them for all eternity, monsters and immortals retreated below ground to seek shelter. But what do the Greek Gods do when they're bored? They bring back the Olympic games--only a lethal version. The newest contender in t...

---

Lost Girl

Wendy doesn't remember anything about Neverland -- or the experiments done on her there as a child. Seven years later, all she wants is a normal life, but shape-shifting shadows plague her dreams and turn her life into a waking nightmare. When the sh...

---

Lost Boy

After nearly losing Wendy, Peter returns her to her family but fears she may not be safe from Hook. Torn between protecting Wendy and leading the lost boys, he must decide to fulfill his duty or follow his heart. Wendy pans, and awakes in her bedroom...

---

Underlord

/ Fantasy

Kira Lier thought she had escaped Underland and the monsters within, but her freedom was only an illusion, an extravagant lie created by the Underlords to keep her imprisoned. To break free and find Zeke and her friends, she teams up with Allyn, a my...

---

Lost Shadow

Not all shadows are monsters.And some were never meant to die.Wendy is on a quest for vengeance after Hook kidnapped the lost boys and destroyed their school. Stuck as a shadow, Peter's body is weakening because each time he dies and regenerates, m...

---

Of Beast and Beauty

Everyone dreams of marrying a prince -- except for me. I am nothing more than a pawn in my adoptive mother's diabolical plot against the seven kingdoms. I was the chosen tool, her sharpened blade that would cut the deepest into the heart of the Kin...

---

Of Glass and Glamour

Born under a hunter's moon, abandoned as a child, I was raised to be a powerful sorceress -- okay, a mediocre sorceress. All right, I'm good at glamour and can make things sparkle, if my spells don't backfire. It was foretold long ago that I wa...

---

Of Sea and Song

I killed a man to protect my sisters, and now I am a fugitive. With bounty hunters hot on my trail- willing to take me dead or alive- I'm forced to disguise myself as a cabin boy on the Bella Donna. I should have been safe at sea, but I cannot escape...

---

Of Thorn and Thread

Born an empath, I have the power- and burden- of hearing thoughts and feeling emotions of others. Retreating from the world, my only refuge is an ancient tower, but my haven is shattered when an injured man arrives with a plea to save the kingdom.Lia...

---

Of Mist and Murder

Captured by an evil sorcerer, I'm forced to become his apprentice and learn forbidden magic. Teetering on the edge between good and evil, I trade my soul for power. Allemar wants to control me, but little does he know the shifter he's caged-- is not ...

---

---

Of Gold and Greed

High in goblin-infested mountains lies the ruins of Ter Dell, the lost stronghold of the dwarves. Evil lurks beneath layers of ice and broken stone, buried in a vault of gold, hungering for the day that man's greed would see it unearthed.That...

---

Of Secrets and Slippers

by Chanda Hahn (Author) Format: Kindle Edition5.0 out of 5 stars 8 ratingsBook 7 of 7: Daughters of Eville A haunting songA deadly danceAn explosive finaleAllemar may be dead, but his cause festers in the dark. Strange beasts stalk the night ...

---

---
Frequently Asked Questions (FAQ)
Chanda Hahn has published 22 books.
Chanda Hahn does not have a new book coming out soon. The latest book, Of Secrets and Slippers, was published in June 2022.
The first book by Chanda Hahn, The Iron Butterfly, was published in February 2012.
Yes. Chanda Hahn has 5 series.