Description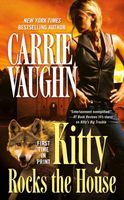 On the heels of Kitty's return from London, a new werewolf shows up in Denver, one who threatens to split the pack by challenging Kitty's authority at every turn. The timing could not be worse; Kitty needs all the allies she can muster to go against the ancient vampire, Roman, if she's to have any hope of defeating his Long Game. But there's more to this intruder than there seems, and Kitty must uncover the truth, fast.

Meanwhile, Cormac pursues an unknown entity wreaking havoc across Denver; and a vampire from the Order

of St. Lazaurus tempts Rick with the means to transform his life forever.
Full Synopsis
About the Book
Published:

Apr-2013

Formats:

Print / eBook / Audio

Pages:

324

Purchase:
What Readers Are Saying
What do you think? Write your own comment on this book!
Write a Comment
3.5 stars One of those comfy enjoyable series reads-
It all starts with a vampire priest, an un-neutered dog, and one stressed out Kitty. Kitty is stressed, she is experiencing the joys of Alphahood. Her pack needs her, wants her advice, her time, her guidance, her protection. (sounds like motherhood doesn't it ?) Her pack is not the only stress. Her human family, her job, the master of the city, they all want a pice of her. Yeah, she is on the edge of ARGUH ! Ben, her rock, her love, the calming balm she needs may be all that holds her together.
New forces some to town and cause some problems for the fragile community. A wolf, strong, arrogant and with a compelling story bags to join the pack. A vampire priest who has come to offer Rick a dream from his past. Both bring trouble and damage to both vampire and wold communities. A friendship forged will be tested. There are major changes.
I enjoy the love between Ben and kitty. It is so pure, complete and unquestioning. Watching them deal with the world together, united, no matter what keeps me glues to the series even more than the ruckus going on around them. They have grown so much as a couple and you really see it in this book. This was a nice easy relaxed read with some tense moments and some heartbreaking scenes. One character left and I hope to see them in the next book.