Description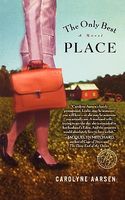 Leslie Vandekeere thought her big-city career made her life worthwhile, but a move to small-town Montana shows her how big the world really is.

Leslie had a good life: a happy family, a great career (even if it did pull her away from her home), and all the energy of urban living. But she finds herself miles away from the city she knows and loves when her husband moves her and the children back to his boyhood home in Montana to help his mother work the struggling family farm. Being a farmer's wife was definitely not in Leslie's plan,

and now she finds herself dealing with dirty cows, giant machinery, eccentric neighbors, and an extended family she doesn't quite fit into. When her husband hints that the move might be permanent, Leslie must decide--can she really handle this much fresh air?
Full Synopsis
About the Book
Published:

Sep-2006

Formats:

Print / eBook

Pages:

325

Purchase:
What Readers Are Saying
What do you think? Write your own comment on this book!
Write a Comment
This book is about Leslie, a wife and mother of two small children. We see both the positive and negative sides of her through her dialogue and her thoughts. Her husband has wondered from place to place looking for the job he fits into. They are forced to move back to his family farm after Dan's step father leaves his mother. Leslie doesn't want to live on a far, and makes Dan promise it will only be for one year. She prepares herself to face her one-year sentence the best she can.

Several things come to light as we read through this story. Leslie and Dan's marriage has suffered badly and we see it through their constant fights and very few sweet moments. It becomes clear that something has to give or they'll become another statistic. Dan's getting a little involved with another woman didn't help their marriage any, but Leslie has decided she wanted no details and wanted to just forgive him and move on. But it becomes clear that a problem swept under the rug is a problem still there.

Leslie's in-laws are another act of contention in her life. She can't stand them because they are overbearing.

I can see both Dan and Leslie's side of this story and my heart goes out to both of them. The fault laid on both sides. Dan did some things wrong, but Leslie did as well. My favorite part was watching everything get tot he point of a blow out and then the aftermath. It was a romance of a married couple. I can't wait to read the sister's story.