Description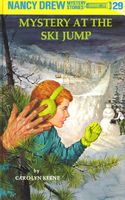 When Nancy learns that the Drews' housekeeper has been duped by an elegantly dressed woman into buying a stolen fur piece, the young detective starts a search for the clever swindler. To Nancy's astonishment, she discovers that the woman is using the name Nancy Drew. The dishonest acts of the impostor point the finger of suspicion at Nancy herself and result in her being questioned by the police.

Nancy's determination to capture the elusive, dangerous Mitzi Channing takes her to northern New York State and Canada. At a gala winter

event Nancy is shocked to hear her name announced as a figure skating champion about to perform. How Nancy meets this situation and turns the tables on Mitzi Channing and her fellow thieves makes another thrilling Carolyn Keene mystery.
Full Synopsis
About the Book
Published:

1952

Formats:

Print / eBook

Pages:

192

Age Level:

08-14

Purchase: