Description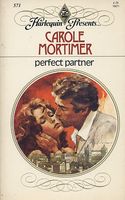 She was obsessed with getting even!

Juliet Chase was determined to make the arrogant chauvinistic Jake Matthews pay for his public criticism of her best-selling novel. How dared he go around ruining people's careers!

Jake's analysis of Juliet didn't stop at her writing, however. "You're not ready for love, but you challenge me," he said, "and I intend to face that challenge."

Ready or not, Juliet fell in love, throwing her well-ordered life into confusion and her innocent heart into turmoil. For if he

didn't respect Juliet herself, he'd never respect her feelings for him....
Full Synopsis