Description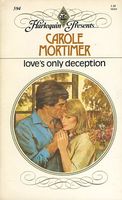 Her sudden wealth seemed like a curse!

A beloved friend had left Callie large shares of his family's firm, Spencer Plastics. Overnight she'd become one of Britain's wealthiest women and, it seemed, one of its most desirable!

A Spencer heir's insistent courtship troubled her, until she discovered his family's plot for her marriage. . . and divorce. But she was too much in love to see what lay behind the attentions of her next suitor, mysterious millionaire Logan Carrington.

Too late she discovered how

true the adage, money can't buy happiness--or love!
Full Synopsis