Description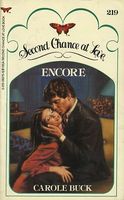 Called "the lion" by his ex-teammates, Sean Culhane had the lazy grace of a jungle cat--and was equally dangerous when aroused. Dancer Melissa Stewart remembers it all too well when, clad only in bits of lace, she quite unexpectedly bumps into him!

From then on, Sean is back in Melissa's life. They come together with the urgency of passion long denied. But the ultimatum Sean issued long ago still echoes between them, shadowing their ecstasy. Melissa knows she can never reconcile her devotion to dance with her love for Sean ... and

that once again she'll be forced to choose.
Full Synopsis