Description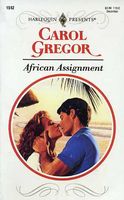 Warning: Predatory Male
Proceed with Caution

Africa was the chance of a lifetime for a secretary with a bad case of wanderlust. Frankie O'Shea knew Cal Fenton was desperate--or he would never have hired her as his driver on his latest photographic shoot. Women were strictly an after-hours occupation for Cal--he could do well without those sorts of distractions.

Frankie hoped her cold, commandeering new boss would warm up now that he was in his element. But nothing seemed to penetrate Cal's tough self-sufficiency;

he seemed determined to make things difficult for her. Worse, this clearly wasn't any ordinary assignment. It was fraught with danger--most of it from the disturbing masculine presence of Cal Fenton... .
Full Synopsis