Description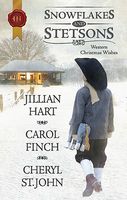 One Christmas night, outcast Lucas Burnett finds a silver-haired angel buried in the snow. But Rosalie Greer is no pale spirit -- she's a fiery, independent woman, as wild as the mustangs Lucas breeds. Can she be the one to finally thaw Lucas's frozen heart?
What Readers Are Saying
What do you think? Write your own comment on this book!
Write a Comment
Christmas at Cahill Crossing by Carol Finch
Lucas Burnett is an outcast in society. His mixed blood was good enough to help settle the area and to be a Texas Ranger but he is not accepted socially. And it's fine by him to stay on his ranch and raise his special breed of horses. He has his appaloosa, Drizzle and his dog, Dog. And then an angel appears in his life.

Rosalie Greer is known in town as a dressmaker. No one knows she is an heiress from the East. She goes out to get her special gifts for Christmas and on the way home a Texas blizzard hits and when the horses get skittish the wagon ends up in the ditch. Rosa is not dressed for the cold.

Lucas and Dog hear some odd noises and skittish horses. He wants to ignore it but when the wolves get louder and horses more upset he sets out to help. He finds Rosa near death and brings her to his cabin.

After leaving Lucas, Rosa is determined to get him involved in town. She invites him to the Christmas festivities and he comes. He even enjoys meeting his neighbor, Quin Cahill.

In November The Lone Rancher will be released. This is Quin's story and Rosa's cousin from the East, Adrianna.
**Sexual situations