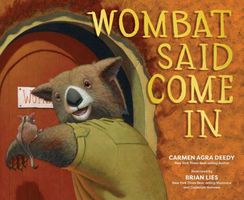 Newest Release
Bibliography:

15 Books - 1 Series

First Book:

July 1991

Latest Book:

August 2023

Rating:
Full Series List in Order
1 - The Library Dragon (Oct-1994)
2 - The Return of the Library Dragon (Oct-2012)
Book List in Order:
15

titles
Agatha's Feather Bed

Agatha loves her new feather bed, but when six shivering, naked geese pay her a visit to discuss the origin of the feathers, is her goose cooked?



Agatha owns a weaving shop in Manhattan and likes to answer the questions of children who w...

---

The Library Dragon

When Sunrise Elementary School advertised for a thick-skinned librarian with a burning love of books, Miss Lotta Scales knew she was perfect for the job. Who could guard books better than a REAL dragon? "She kept a fiery eye out to make sure no on...

---

The Last Dance

The story of Ninny and his tailor grandfather, Oppa, is told from the perspective of Ninny's best friend, Bessie, and explains how Oppa taught them that every human being has the right to dance, to sing, and to tell stories....

---

The Secret of Old Zeb

Some dreams are too big to be kept in bottles.
Walter Higgins is a scrappy child with a great imagination, but he feels lost and not quite sure of himself when he is shipped off to Boston to visit his unknown Great Aunt Hortensia ("the Warden"...

---

---

The Yellow Star

Without the yellow star to point them out, the Jews looked like any other Danes.
For centuries, the Star of David was a symbol of Jewish pride. But during World War II, Nazis used the star to segregate and terrorize the Jewish people. Except in De...

---

Growing up Cuban in Decatur, Georgia

Storyteller Carmen Agra Deedy takes readers on her journey from Havana to Decatur.
Popular storyteller and author Carmen Deedy shares the story of the childhood journey that took her from her island roots in Havana, Cuba, to small-town Southern li...

---

Martina the Beautiful Cockroach

Martina the beautiful cockroach doesn't know coffee beans about love and marriage.
That's where her Cuban family comes in. While some of the Cucarachas offer her gifts to make her more attractive, only Abuela, her grandmother, gives her someth...

---

The Cheshire Cheese Cat: A Dickens of a Tale

Skilley, an alley cat with an embarrassing secret, longs to escape his hard life dodging fishwives brooms and carriage wheels and trade his damp alley for the warmth of the Cheshire Cheese Inn. When he learns that the innkeeper is looking for a new m...

---

---

The Return of the Library Dragon

After 682 years of faithful service, Miss Lotty is retiring from guarding books. But before she can check out of Sunrise Elementary for good, disaster strikes. Someone has ordered all the books removed from the library and replaced with machines! It'...

---

The Noisy Little Rooster

La Paz is a happy, but noisy village. A little peace and quiet would make it just right. So the villagers elect the bossy Don Pepe as their mayor. Before long, singing of any kind is outlawed. Even the teakettle is afraid to whistle! But there...

---

Rita and Ralph's Rotten Day

Have you ever been REALLY mad at your best friend?
* "This well-crafted story is an excellent choice for those seeking books featuring conflict-resolution." -- Booklist, starred review

In two little houses,
on two litt...

---

The Children's Moon

Have you ever seen the moon on a clear blue day and wondered why?"…Emotive watercolors…The well-told tale works on multiple levels…." --School Library JournalThere once was a time when the sun alone ruled the day, the moon graced the night,...

---

Wombat Said Come In

A kindhearted wombat offers refuge to a parade of animal friends during an Australian bushfire in a delightful new picture book from New York Times best-selling creators Carmen Agra Deedy and Brian Lies.    Australian bushfires ro...

---

Carina Felina

Carmen Agra Deedy, New York Times bestselling author and one of Scholastic's most talented and cherished storytellers, retells a hilarious folktale set in Havana, Cuba. Illustrated by the brilliant, award-winning artist, Henry Cole.This is the ...

---
Award-Winning Books by Carmen Agra Deedy
Martina the Beautiful Cockroach
2009 Florida Children's Book Award -- Pre K - 2nd Grade
The Yellow Star
2000 Parents Choice Award (Fall) (1998-2007) -- Gold
2001 Bookseller's Choice -- Nonfiction
2001 Christopher Award -- Ages 11-12
Frequently Asked Questions (FAQ)
Carmen Agra Deedy has published 15 books.
The next book by Carmen Agra Deedy, Carina Felina, will be published in August 2023.
The first book by Carmen Agra Deedy, Agatha's Feather Bed, was published in July 1991.
Yes. Carmen Agra Deedy has 1 series.