Description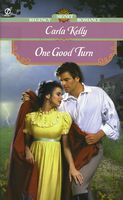 A Second Chance

Benedict Nesbitt, the Seventh Duke of Knaresborough, has resigned himself to a life of solitude. The woman he'd loved for years just married one of his best friends. And so, in the noble tradition of resignation, he is heading back home to look after his niece and work on his stiff upper lip...

But on the way he agrees to give a ride to a poor Spanish woman and her child. And though they appear to have nothing, Liria Valencia's self assurance is stronger and more genuine than any he's known in his whole

upper crust life. There's certainly more to this single mother than meets the eye. But could she be Benedict's second chance at love? Only if they can see past their differences. And that will require delving into a complicated and painful past...
Full Synopsis
What Readers Are Saying
What do you think? Write your own comment on this book!
Write a Comment
No one writes traditional Regencies like Carla Kelly. No ballrooms, no Almacks, just great storytelling. Kelly's books usually feature military characters and this book is no exception. The main characters are wounded souls who finally find peace with each other.