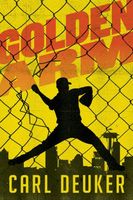 Newest Release
Bibliography:

11 Books

First Book:

September 1991

Latest Book:

April 2020

Rating:
Book List in Order:
11

titles
On the Devil's Court

"A clever blend of family conflict, superstition, and exciting sports action. Adolescent readers will empathize with the mind games Joe plays as he struggles for...independence; teachers will delight in the literary references...and librarians will p...

---

Painting the Black

When a hard ball is coming at you fast, and when it's dancing, too, every single nerve in your body is alert and ready. Your eyes are wide open, and the adrenaline is pumping. It's not a feeling you want to give up, any more than you want to get o...

---

Night Hoops

Nick Abbott and Trent Dawson have nothing in common but basketball. It's sophomore year and Nick is trying to deal with his parents' divorce. He also really wants to be a star on the basketball team. Trent, his neighbor, is angry, and aggressive. The...

---

---

---

Heart of a Champion

Jimmy Winter is a born star on the baseball field, and Seth Barnam can only dream of being as talented. Still, the two baseball fanatics have the kind of friendship that should last forever. But when Seth experiences an unthinkable loss, he's forced ...

---

---

Payback Time

Through the eyes of a distinctly non-athletic protagonist -- a fat high school journalist named Mitch -- veteran sports novelist Deuker reveals the surprising truth behind a mysterious football player named Angel. When Angel shows up Lincoln High, h...

---

---

---

---

Golden Arm

In this riveting story about baseball and brotherhood, a boy from the wrong side of the tracks finds himself pitching his way out of poverty -- one strike at a time. Lazarus "Laz" Weathers has always been shy, and his issue with stuttering w...

---
Award-Winning Books by Carl Deuker
Gym Candy
2010 Iowa Teen Award -- Young Adult
Heart of a Champion
1995 Volunteer State Book Award -- Young Adult
1996 Golden Sower Award -- Young Adult
High Heat
2006 Golden Sower Award -- Young Adult
Frequently Asked Questions (FAQ)
Carl Deuker has published 11 books.
Carl Deuker does not have a new book coming out soon. The latest book, Golden Arm, was published in April 2020.
The first book by Carl Deuker, On the Devil's Court, was published in September 1991.
No. Carl Deuker does not write books in series.