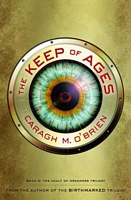 Newest Release
Bibliography:

10 Books - 2 Series

First Book:

December 1996

Latest Book:

September 2017

Rating:
Full Series List in Order
1 - Birthmarked (Apr-2010)
2 - Prized (Nov-2011)
3 - Promised (Oct-2012)
1 - The Vault of Dreamers (Sep-2014)
2 - The Rule of Mirrors (Feb-2016)
3 - The Keep of Ages (Sep-2017)
Book List in Order:
10

titles
---

Birthmarked

In the future, in a world baked dry by the harsh sun, there are those who live inside the wall and those, like sixteen-year-old midwife, Gaia Stone, who live outside. Gaia has always believed it is her duty, with her mother, to hand over a small quot...

---

Prized

Striking out into the wasteland with nothing but her baby sister, a handful of supplies, and a rumor to guide her, sixteen-year-old midwife Gaia Stone survives only to be captured by the people of Sylum, a dystopian society where women rule the men w...

---

Prized. Caragh M. O'Brien

The second title in Caragh O'Brien's dystopian trilogy, 'Prized' finds Gaia and her baby sister Maya trapped in the mysterious Sylum. Gaia is determined to uncover the secets of the village, at any cost. But when the decisions you make affect the liv...

---

---

---

Promised

A sixteen-year-old midwife once risked everything to leave the Enclave. But the time has come for her to go back. Gaia Stone has challenged the ruthless regime of the Enclave, she's crossed a terrible wasteland to live in Sylum, and she even adap...

---

The Vault of Dreamers

The Forge School is the most prestigious arts school in the country. The secret to its success: every moment of the students' lives is televised as part of the insanely popular Forge Show, and the students' schedule includes twelve hours of induced s...

---

The Rule of Mirrors

The fast-paced, psychologically thrilling sequel to "The Vault of Dreamers" follows Rosie after her consciousness has been split in two. The entire country was watching when Rosie Sinclair was expelled from Forge, the prestigious arts school that ...

---

---

The Keep of Ages

In the fast-paced, high-stakes conclusion to Caragh M. O'Brien's Vault of Dreamers trilogy, Rosie travels to a derelict theme park to shut down dream mining once and for all. Driven by fear when Dean Berg kidnaps her family, Rosie Sinclair strikes...

---
Frequently Asked Questions (FAQ)
Caragh M. O'Brien has published 10 books.
Caragh M. O'Brien does not have a new book coming out soon. The latest book, The Keep of Ages, was published in September 2017.
The first book by Caragh M. O'Brien, Even as We Speak, was published in December 1996.
Yes. Caragh M. O'Brien has 2 series.